BOUCHARD BROTHERS - SONG AND STORIES

The Bouchard Brothers first played as a team in the early 60s.  Albert, the oldest, was the drummer, and Joe, the second of 6 brothers and one sister, was the piano, guitar and sometimes trumpet player.  After successful high school and college bands, Joe again teamed up with brother Al, to become founders of the internationally successful legends - Blue Öyster Cult.  In 1971 They won an audition with Clive Davis at Columbia Records and soon after gold and platinum awards came their way.  Today they have teamed up again for a semi-acoustic trio that plays the hits and more.
The BOUCHARD BROS. SONGS AND STORIES SHOW features many visuals with their multimedia projections.  See the photo gallery from recent shows on the next page.  
In March of 2017, the Bouchard Brothers as inductees in the Long Island Music Hall of Fame were invited to perform at Stony Brook University.  This was an awards ceremony where they were presented the Musical Ambassadors of Stony Brook award and a special citation by the Suffolk County commissioner. They also played a short set of acoustic songs to the delight of the packed lecture hall.  This was a start of a project known as: 
After the Stony Brook concert, they were booked to do the songs and stories show at the beautiful Boulton Center for the Performing Arts in Bay Shore LI NY.  This event featured a full multimedia presentation with slides and movies illustrating the many songs they wrote and performed with Blue Oyster Cult and songs from other projects including their latest individual solo albums.  
This show is a close-up look at two creative brothers whose music has lasted over the decades.  The show also features Joan Levy Hepburn on guitar and vocals.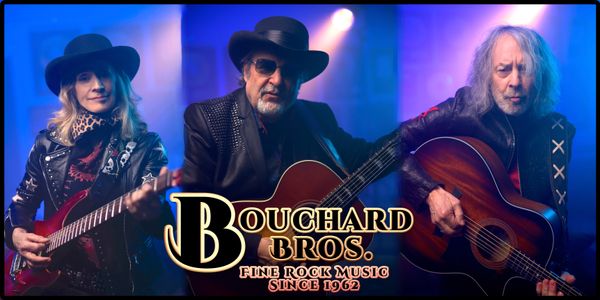 The story you want to know.  Albert and I are featured in the next video at 2:22.
 In 2018 Albert and Joe Bouchard were honored with an induction into the 1000 Islands Performing Arts Hall of Fame in Clayton NY their hometown.  It was a fabulous ceremony with the brothers playing the big hits of BOC before a packed auditorium.  


Check out Joe's trumpet solo on Black Telescope from Albert's latest hit album "Re-Imaginos"