JOE BOUCHARD BRIEF BIOGRAPHY
Joe Bouchard is a very successful recording artist, best known as one of the founding members of the band Blue Öyster Cult.  The original band recorded classic albums for Columbia Records in the 70s and 80s.  The band toured all over the world with shows in the US, Canada, Europe, the UK and Japan.  From those days Joe earned nine gold and two platinum awards.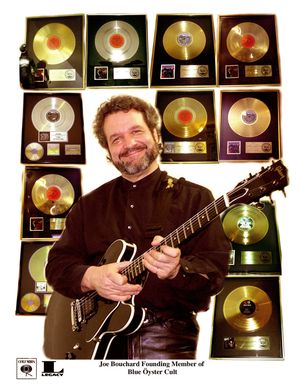 Joe was born to Robert and Frances Bouchard on November 9, 1948, at Mercy Hospital in Watertown NY.  Robert was a broadcast technician for WWNY radio and TV in Watertown.   Joe grew up on a farm on the St. Lawrence River in Clayton NY with five brothers and one sister.  There was much music making in their house. Joe's older brother Albert became the drummer, and Joe played piano, trumpet and eventually took up guitar. 
Albert and Joe founded a very successful band called The Regal Tones with relatives and neighbors.  The barn at the farm was eventually turned into a dance hall. They played high school dances, block parties, guested on the TV station where their father worked, and won a famous Battle of the Bands in the big city of Watertown.
Music was so much fun and emotionally satisfying that Joe decided in high school that he would follow a music career, naively not knowing the likelihood of success is very slim.  He auditioned on piano for the Ithaca College School of Music, practiced for hours at a time, played in several "frat party bands".  By the spring 1970 he earned a bachelors degree in Music Education.
In the summer of 1970 he received a frantic call in the middle of the night from brother Albert.  The band that Albert was playing in on Long Island called Soft White Underbelly needed a bass player because in two weeks time they were to be the opening act for the newest rage, Led Zeppelin.  Albert told him that it wasn't working out with their old bass player, and they were desperate for a replacement who could fit in immediately.
In September of 1970 Joe joined the band that would become Blue Oyster Cult.  The tour with Led Zeppelin never happened as their management decided to do shows with no opening act.  The same week that Joe joined the band, Stalk-Forrest Group (the later name for Soft White Underbelly) they were dropped from their record label, Elektra.  For Joe, his brother and the band it was devastating, and then it was back to the drawing boards.
They worked hard playing local shows, touring NY and PA and New England.  All that time they wrote new songs that would end up on Blue Öyster Cult's first album. After recording demos and doing a live audition for Clive Davis who was the president of Columbia Records, they signed a long term deal with the label and they were on their way to rock stardom.
Joe was an active member of Blue Öyster Cult for 16 years and recorded 14 albums for Columbia Records.  BÖC, as they were called, toured tirelessly all 50 states and internationally in Canada, Europe, the UK, and Japan throughout the 70s and 80s.  While best known as their bass player, he also played piano, keyboards, and guitar.  As a songwriter, he wrote many BOC songs including the very popular Astronomy which was covered by Metallica.  His song Hot Rails to Hell was the second BÖC single released by Columbia Records.  It remains a very popular song today.  Their song Don't Fear the Reaper was a top 20 song and has been played in many movies and TV shows.  They followed up that song with the ever-popular Godzilla, and then the all-time classic Burnin' for You.  The Reaper took on another dimension when it was used on Saturday Night Live in the "More Cowbell" sketch.  It was reintroduced to a whole new generation through the power of TV, and the entire catalog of Blue Öyster Cult songs is constantly being reissued by Columbia/Sony.
Sensing it was time for a new direction, Joe retired from the Blue Öyster Cult in 1986.  Since then he has dedicated much of his time to composing new music, performing and teaching.  He has a bachelors degree from The Ithaca College School of Music, and in 1995 earned a masters degree in music composition from The Hartt School at the University of Hartford.
In 1997 Joe's songwriting reputation was given a giant leap forward when Metallica recorded a cover of Joe's co-written song Astronomy on their immensely popular album Garage Inc.  This song opened up the BÖC catalog to a whole new generation of fans.
Joe is involved in recording sessions for many different artists in the past two decades.  Sometimes his collaborations are conducted online with bands in different countries, recording different instruments and helping with song arrangements.  One of his latest sessions was recording guitar on an Alice Cooper cover of "I Love the Dead" for the Mick Jagger/Martin Scorsese produced HBO series called Vinyl.  It was an amazing live session in the famed Electric Lady Studios in NYC.  The song was produced by Don Fleming and the instruments were recorded by Dennis Dunaway, who played bass on the original recording, and his brother Albert Bouchard on drums among others. 
Joe authored several books for Alfred Publishing, the world's leading publisher of educational books.  Some of his titles are Rock Guitar for Beginners, Beginning Rock Keyboards, and The Total Rock Keyboardist.  His latest book called Teach Yourself to Play Rock Keyboards was released in 2015.
BLUE COUPE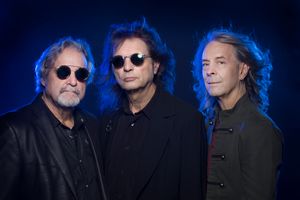 Today when not writing and recording in his home studio, he performs with several bands.  His latest group, BLUE COUPE, is a superstar combo which features his brother Albert, also a founding member of Blue Öyster Cult, and Dennis Dunaway, a founder of the Alice Cooper Group and a member of the Rock and Roll Hall of Fame.  Blue Coupe has produced two studio albums. The first recording is called Tornado on the Tracks and features Doors guitarist Robby Krieger on several songs. 
Their newest CD entitled Million Miles More includes guitar solos by Buck Dharma of Blue Oyster Cult, and a stunning vocal by the legendary Alice Cooper, plus many other guest artists.  The latest album is called Eleven Even all new songs that feature their long-time back up singers the wonderful Tish and Snooky of Manic Panic fame!
One great highlight of touring for Joe was when Joe performed for US soldiers in Iraq and Kuwait in 2010. This was a tour with the classic rock all-star band called the Rock and Pop Masters. This included members of Orleans, Survivor, Santana and Kool and the Gang.  The tour was a big success in spite of the blazing heat and the dangers of performing in a war zone.
His first solo recording, Jukebox in My Head, was released in 2009.  Since then he has released four more solo albums including Tales from the Island, New Solid Black, and The Power of Music.  They all are solid collections of songs.  His fourth solo album The Power of Music was released in 2016, and early comments have been raves.  It contains 7 brand new songs and two covers.  One of the covers is a BOC classic Career of Evil written by Joe's brother Albert and poet Patti Smith.  Career of Evil is also the title of the best-selling book by author JK Rowling (written under the pen name Robert Galbraith).  That book includes many BOC references in every chapter and will be a TV series later this year.
Joe's 5th solo album is the aptly titled Playin' History.  It recaps the long legacy of Joe's music while looking toward the future.  The opening song, called Renaissance Man, is dedicated to his late manager Sandy Pearlman.  Sandy was the conceptualizer and producer of much of the BOC's strongest albums.  He passed away in 2016 from a brain injury, but his influence on the original Blue Öyster Cult mystique remains constant today.   Other songs take on such concepts as insomnia, space travel, promoting creativity and dealing with the price of fame. 
The 6th solo album is called Strange Legends which was released on RockHeart Records the Bouchard Brothers custom label.  The label is distributed by Deko Entertainment which has distribution through Deko Entertainment a part to the ADA/Warner Music Group. 
Joe's 7th solo album is called American Rocker released on RockHeart Records also distributed by Deko Entertainment. It is getting rave reviews and many are saying it is Joe's strongest album to date.
Joe continues to record new music and collaborate with other independent artists.  He recorded the bass on a recent album Animals Reimagined – A Tribute to Pink Floyd.  The song Pigs (Three Different Ones) features Joe on bass along with legends Billy Cobham (drums), Patrick Moraz (keyboards) James LaBrie (vocals) and Al DiMeola (guitar).  He is currently working on a progressive rock album with Billy Sherwood bassist for Yes.
Joe will be back on tour in the United States, Canada, England and Europe this summer.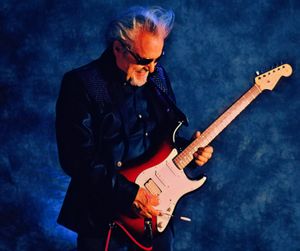 Solo albums:
Jukebox in My Head,  2009.  (Also on vinyl)
Tales from the Island, 2012 
New Solid Black, 2014
The Power of Music, 2016  (Also on vinyl)
Playin' History, 2017
Strange Legends, 2020
American Rocker, 2022
Albums with Blue Coupe:  
Tornado on the Tracks, 2011
Million Miles More,  2013.
Eleven Even,  2019
 SEE MORE AT THE 
FULL DISCOGRAPHY including the Columbia Records Catalog